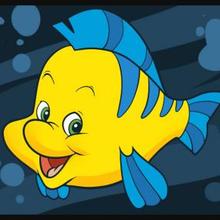 I think everyone is familiar with the adorable little fish that hangs around with Ariel in Disney's "The Little Mermaid". As I browsed through all the drawings I did in the Disney section, I realized that I never did a tutorial on "how to draw Flounder", step by step. Despite his name, he is definitely not a flounder fish. Instead Flounder is a bright colored tropical fish called a surgeonfish. Since Ariel doesn't really relate to anyone in her underwater kingdom, Flounder plays the role of being her best friend. Later in the flick Sebastian ends up becoming her friend, and early in the movie or storyline, Ariel and Flounder associate with a land animal named Scuttle. He is a seagull that has almost no brain, but he is very caring of his friends. As for Flounder, even though he doesn't like to admit it, he is a a fish that is scared of his own shadow. Ariel sometimes calls him a guppy which is the nickname she uses for his lack of courage. Flounder may be a little scary cat, but one thing is certain, when Ariel is in trouble he is right there by her side to help her in any way he can with no questions asked. Even if the situation is dangerous and scary. Flounder is one of my favorite characters from The Little Mermaid, and drawing him was lots of fun. I hope you guys enjoy learning "how to draw Flounder" as well with this easy to follow tutorial. I will be back soon because I have some really cool lessons going up today that I think a lot of you artists and members will enjoy. Peace out!....
Step 1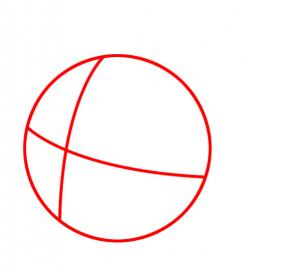 Flounder is going to be easy to draw. Start by making a circle for the head and then add the facial guidelines which will help you draw the face with symmetric ease.
Step 2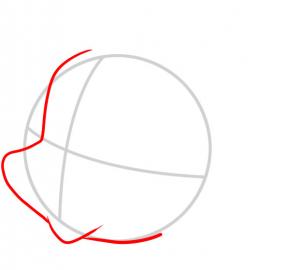 Now you will use the circle you drew to sketch out or shape the face of Flounder starting with the forehead, and then move down to draw out his cheek, chin or lower portion of the mouth, and then some more of the face shape.
Step 3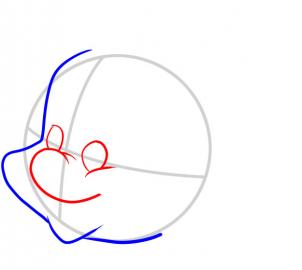 Here all you need to do is draw out Flounder's nose, but be sure to add those crinkles on the bridge of the nose like you see here. Next, use the facial guidelines to draw in his eyes and cheeks.
Step 4
Draw in the eyeballs, color in the pupils, and then draw in the rest of the mouth. Sketch in the tongue, eyebrows, and frown line and some added detailing to the rest of the face like you see here.
Step 5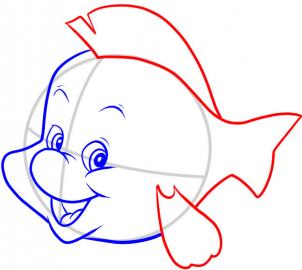 The first thing you need to do here is draw out the rest of Flounder's body which is very short and stubby looking. When that is done draw in the dorsal fin, and pectoral fin. Give Flounder a cute little slit in his dorsal fin for added style.
Step 6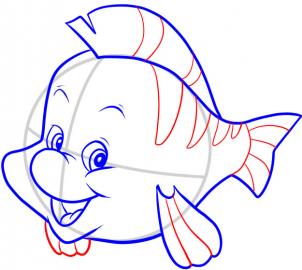 Finally the last drawing step. All you need to do is draw out the other fin, and then draw in the rib lines on all of the fins, and draw in the stripes on his back like so. Erase the guidelines that you drew in step one to clean up the drawing.
Step 7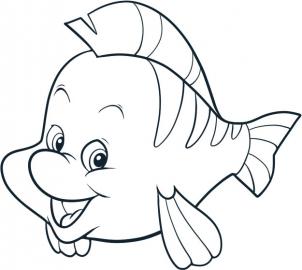 Here is what Flounder looks like when you are all done. Now you can have even more fun coloring in this adorable character from The Little Mermaid. Thanks for joining me with this lesson that taught you how to draw Flounder.

You will find incredible drawing tutorials for kids with step-by-step explanation how to create great drawings. All how to draw tutorials on HelloKids are provided by our partner, Dragoart.com. Pets, Pokémon, fantstic beast and dragons, be sure you will find something to draw on Hellokids!