How to Draw Musa, Winx Club
So her name is Musa and she is another pixie from the new Nickelodeon series Winx Club. For the past week I have been making lessons of the main pixies that will be appearing in the new series. I almost have all the main Winx, there is only a couple of them left. The Winx is a group of fairies brought together in a club that was created by Bloom. The original five characters where Bloom, Stella, Flora, Musa, and of course Tecna. Other character like Layla and Roxy joined the club in different seasons. Musa is the fairy or pixie that loves any type of music no matter if it's rock, classical, jazz, instrumental, pop, or what have you. Another good trait about Musa is how loyal of a friend she is. She is also very caring, honest, and a bit reserved. Out of the now seven fairies, I would say that Musa has the lightest completion, and she is more of a tomboy than any other figure of the club. It is suggested that she might be some sort of Asian ethnic. Musa is described as having blackish blue colored hair that she wears in ponytails, blue eyes, and an extreme love of music. Any pixie that comes from planet Melody is going to be a big time music lover. Anyways, she is going to be a really exciting character to draw because she is very interesting looking. I love the color of her hair and the style of her clothes. I think you too will enjoy drawing Musa from Winx Club, I mean how can you not with a face like hers. Thanks for joining me with this lesson guys, have fun and enjoy your drawing day!....
Step 1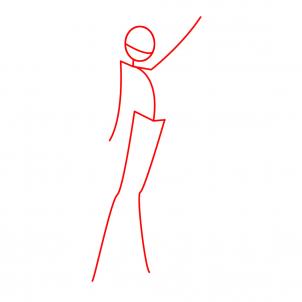 Another figure that is going to be drawn once again, and like always you will start it the same way. Begin by making a circle for the head, and then draw in the guidelines that will create a stick figure pose.
Step 2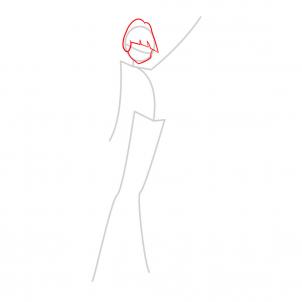 Here you will begin sketching out the structure of her face, and then draw the whole top portion of her hair. When doing this make the bangs straight, and then add some cuts in the bangs for thick chunky strands.
Step 3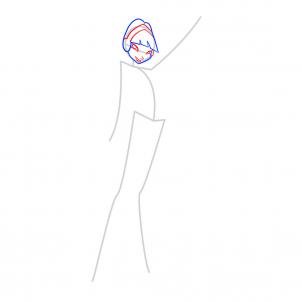 Draw the top part of her headphones, and then leave behind circles for the muffs. When that is done you can draw out the shapes of her Asian like eyes, and then add a nose, and mouth.
Step 4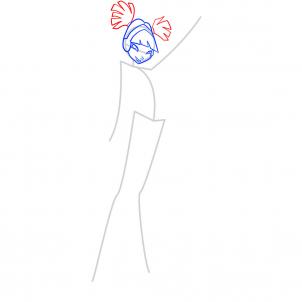 Draw out the chunky style pigtails, and be sure to draw split strands that should be thick.
Step 5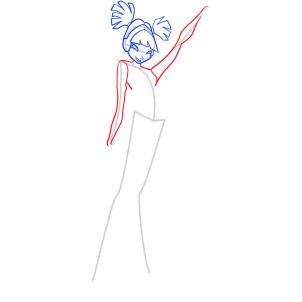 Draw the neck, and then begin drawing out the shoulders and arms, and then draw out the front part of her chest.
Step 6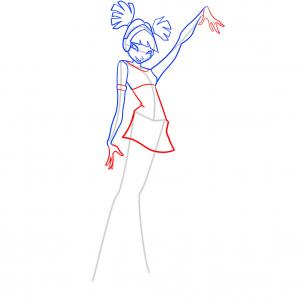 You will finish drawing out her arms and then draw in her hands and fingers. Next, draw the waist, rest of her torso, and then draw her skirt. Add the upper arm band, and move to step seven which is going to bring you closer to the end.
Step 7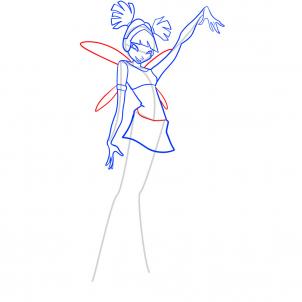 The only thing you have to do here is draw out the small shaped wings, and then draw out the waist line to show that she is wearing a skirt.
Step 8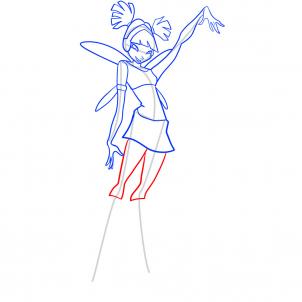 Just one more step after this one before you are all done with drawing Musa. There is only two things you have to do here in step eight, draw both of the thighs and end the leg length at the knee.
Step 9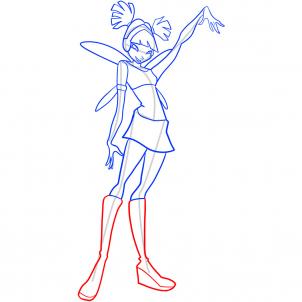 Lastly, draw out the rest of her legs which are her knee high boots. Draw in the thick platform sole, and erase the lines and shapes that you drew in step one.
Step 10
Here is how nice Musa looks when you are all done. Color her in and now you have one of my favorite characters from Winx Club.

You will find incredible drawing tutorials for kids with step-by-step explanation how to create great drawings. All how to draw tutorials on HelloKids are provided by our partner, Dragoart.com. Pets, Pokémon, fantstic beast and dragons, be sure you will find something to draw on Hellokids!