How to Draw Fantasia, Wizard Mickey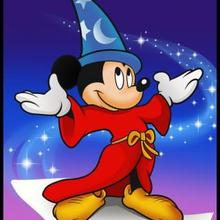 I had an awesome idea to do a tutorial on one of the more recognized versions that Mickey Mouse takes on. Some people know him in this state as wizard Mickey, and then again some folks call him Fantasia. This tutorial is going to teach you "how to draw Fantasia" or Mickey in his wizard form. Fantasia is one of the first Disney movies that I can remember watching, and for so long I didn't know what it was about. I finally came to the conclusion that it was a musical flick that included animated shorts that described or showed what each classical song was about. It's definitely not your typical cartoon movie; you would have to be the type of person that enjoys visuals, and songs in the form of classical music. Mickey is first introduced in Fantasia as a servant boy that is dressed in rags. He finds a wand or something like that and from there begins witnessing magical phenomenon. One of my favorite scenes is when the mermaids and centaurs take the screen. In general if you haven't yet seen Disney's Fantasia, you should spend the time to watch it. Did you know that Fantasia was Walt Disney's third animated production, pretty cool huh? Well I guess that's about it for now, I will be back with two more tutorials that will be coming your way. You can now learn "how to draw Wizard Mickey" and have fun doing it. Peace out people and enjoy!....
Step 1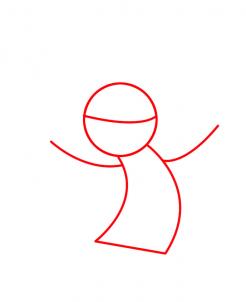 Drawing the wizard version of Mickey is going to be pretty simple to draw. Begin with a small circle for the head, and then draw out the warped shape of the body. You will then draw in the guides for the face, and arms.
Step 2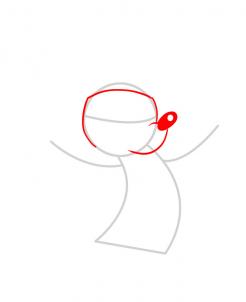 Begin shaping out the shape of Mickey's head, and then draw out the nose as well as color it in. Be sure to add that bump and leave behind a white dot for the glare or shine he has on the nose.
Step 3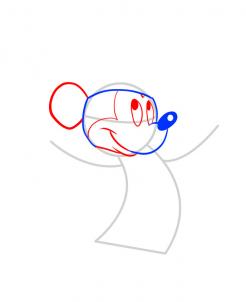 Finish sketching out the face as well as his cheek. When that is done you can draw out his signature ear, and then sketch out the bottom lip, mouth line or smile, and then draw out the eyes and color in the eyeballs.
Step 4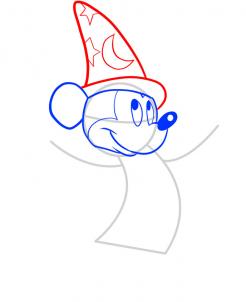 Draw out the wizard hat as well as the lid of the hat. Draw in two stars, and the crescent shape of the moon.
Step 5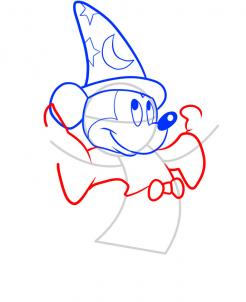 Here you will begin sketching out the shoulders, arms, and sleeves. All wizard cloaks have those oval shaped sleeve holes. Draw in some of the waist, and then draw in the tie that holds the robe up. You will also draw out some of the right hand which is just the thumb.
Step 6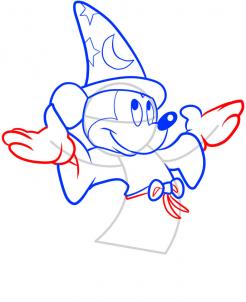 Start this step by finishing the hands, and then draw out the rest of the tie for the waist. Make the loose ties, and then move along to the next step where you will get closer to the end.
Step 7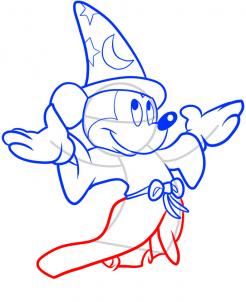 You are ready to draw out the rest of Wizard Mickey's clothing and this should be long enough to look as though it's dragging on the floor. Draw in the legs, and then draw the top parts of the shoes.
Step 8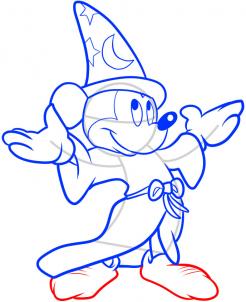 This last step just has you drawing out the wide looking cloth like shoes with the rounded tipped toes. Add the creases on the top of each shoe, and then begin erasing the lines and shapes that you drew in step one.
Step 9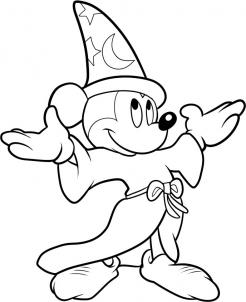 Here is what Mickey looks like when you are all done. You can go ahead and color this drawing in, and when you do, don't forget to keep it original. I hope you liked this lesson on drawing Wizard Mickey.

You will find incredible drawing tutorials for kids with step-by-step explanation how to create great drawings. All how to draw tutorials on HelloKids are provided by our partner, Dragoart.com. Pets, Pokémon, fantstic beast and dragons, be sure you will find something to draw on Hellokids!