How to Draw a Jellyfish for Kids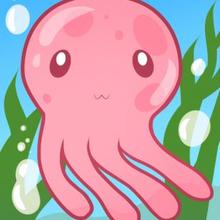 Well, I have reached the end of the day but there is still three more tutorials that have to go up. This next lesson is going to simply show you "how to draw a jellyfish for kids", step by step. As you know, jellyfish are one of kids, and young teens ˜oddest animals ever'. This sea creature actually has a translucent body and come in all different shapes, sizes, and colors. The one I have for you here is a very simple concept that can easily be replicated without a lesson. Teaching someone to draw a jellyfish in for kids style, is going to be a snap from start to finish. If you have any ideas for animals, objects or characters that would make cool additions to the for kids section, just let me know. In the meantime, have fun with this submission and be sure to be honest when leaving comments. Peace out peeps, and adios!....
Step 1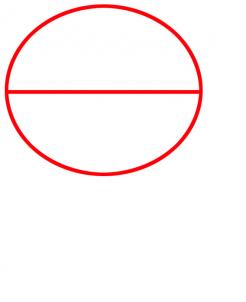 Begin with a simple circle for the head, and then add one facial guide.
Step 2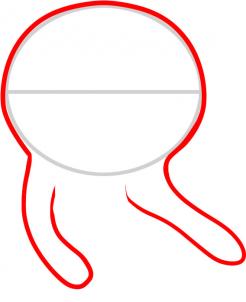 You will now first thicken the head lining you just drew, and then draw in two of the arms or tentacles for the jellyfish's legs.
Step 3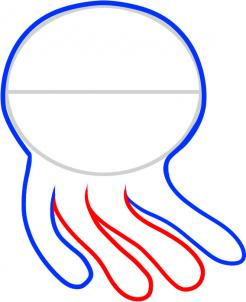 Finish the body by drawing out two more legs that should be rounded at the base like the rest of legs or tentacles.
Step 4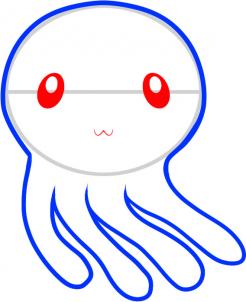 Using the facial guidelines, all you need to do is draw out and color in the eyes. Make a cute little mouth, and clean up the drawing.
Step 5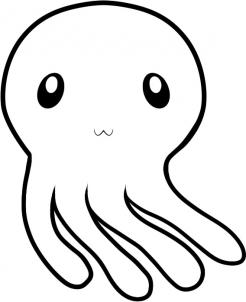 See how awesome this jelly fish looks now that you are all done. Choose a shade and then color in your new animal.

You will find incredible drawing tutorials for kids with step-by-step explanation how to create great drawings. All how to draw tutorials on HelloKids are provided by our partner, Dragoart.com. Pets, Pokémon, fantstic beast and dragons, be sure you will find something to draw on Hellokids!