How to Draw a Ninja for Kids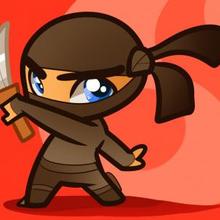 Hey ho everyone, and welcome back to another fun filled lesson that is going to be super cool and super fun. One of the things I noticed that I was missing from my ˜for kids' section, is a tutorial on "how to draw a ninja for kids", step by step. Everyone knows that ninja are awesome and because I have always received positive feedback with the ninja lessons I did in the past, I went ahead and made another. I had so much fun creating this new depiction of a ninja with a childlike appearance. I tried to keep the concept very simple and very clean. I also incorporated some chibi style with this ninja and I think you guys will like the end results. As far as complexity goes, there is none. You should be able to bang out this lesson on drawing a ninja for kids in just about ten minutes tops. When you're done I would love for you to submit the finished work to show me how you did. In the meantime keep those pencils moving because it's a whole new day today!....
Step 1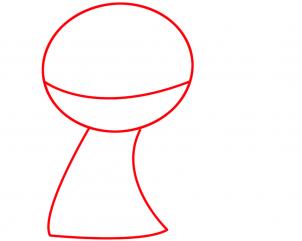 Start with a circle for the head and then draw out the body which flares down at the end. Add one face guide and move to step two.
Step 2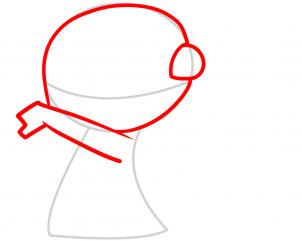 All you will do here is actually shape out the head and then draw the knot which is tied to the side of the head like so. Next, draw the stiff looking arm and then the hand.
Step 3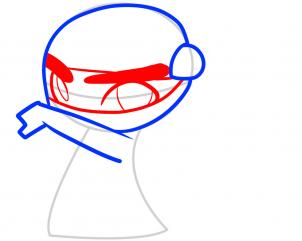 Draw out the thick, black eyebrows and then get the large eye shapes drawn out as well. You will then draw in the frame for the mask which only shows the eyes.
Step 4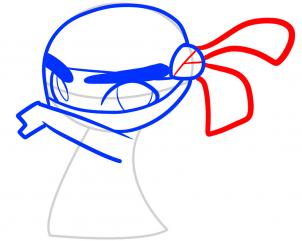 Next, draw the ties which are blowing and then add some lining to detail the knot.
Step 5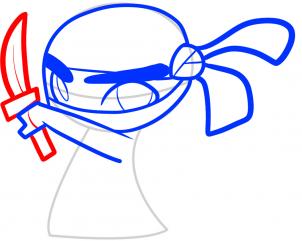 Simply draw out the small shaped katana sword and then draw in the definition on the blade and then on the hand. As you can see this ninja is not a force to be reckoned with.
Step 6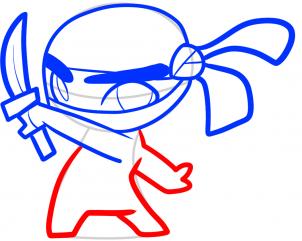 Okay, draw out the rest of the body and as you can see I tried drawing this ninja in the easiest action pose. You will need to draw out the other arm, torso, legs and butt.
Step 7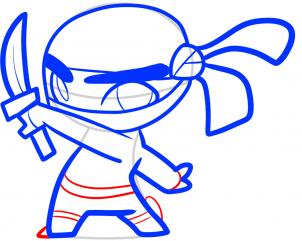 And finally, draw in the lines for the ninja gi which will add detailing and definition. Don't forget to draw the feet and clean up the drawing from any mistakes you may have made.
Step 8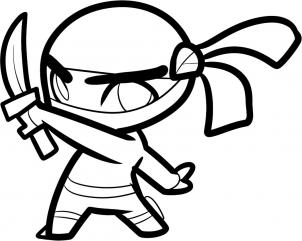 Okay guys this is how your drawing ends up looking when you are all done. Now you can color it in to really finish off the ninja for kids.

You will find incredible drawing tutorials for kids with step-by-step explanation how to create great drawings. All how to draw tutorials on HelloKids are provided by our partner, Dragoart.com. Pets, Pokémon, fantstic beast and dragons, be sure you will find something to draw on Hellokids!