BRAVE, the new Disney Pixar Movie
Learn how to draw BRAVE Disney Pixar characters on Hellokids
or View the BRAVE MOVIE trailer in english :
.

The characters of the 13th animated feature from Disney Pixar Animation Studios will have the UK voices of Kelly Macdonald, Emma Thompson, Billy Connolly, Julie Walters, Kevin McKidd, Craig Ferguson and Robbie Coltrane.
"HIGHLAND OF THE "BRAVE" -- The rugged and mysterious Highlands of Scotland serve as the backdrop for "Brave," a new tale that joins the land's ancient lore—stories of epic battles and mystical legends passed down for generations. Determined to follow his own path in life, Merida defies an ancient tradition sacred in the eyes of three lords. Merida will create chaos in the kingdom when an eccentric old woman famous for her wisdom draw her attention. She will see a very unofrtunate wish come true... The danger will force Merida to discover the true meaning of bravery to thwart the terrible curse...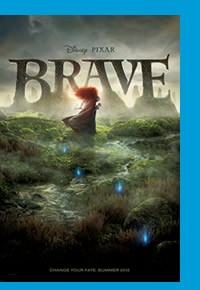 Directed by Mark Andrews (The Incredibles, Ratatouille, John Carter of Mars) and Brenda Chapman (The Lion King and The Prince of Egypt), "Brave" is the grand adventure of Merida, a skilled archer who confronts tradition, destiny and the fiercest of beasts to discover the true meaning of courage. "Brave," full of heart, memorable characters and Pixar's signature humor, takes aim at cinemas August 17, 2012, and will be presented in Disney Digital 3D™. 
Enjoy as well all the Disney coloring pages,