Learn how to draw this cute monkey of your very own.
---
You will need:
- Pencil
- Pen
- Eraser
- Paper
- Colored pencils or crayons
- Ruler (suggested)


Jeff's Tips & Ideas : Use lightly sketched pencil lines first for the structure. After, use a pen to draw in the final lines. When you're finished, erase the underlying pencil lines to reveal your drawing. Then - color it!
---
Let's start! Follow step by step our easy indications below !
STEP 1
First, come up with a framework (if it helps!)... something to aid you in establishing structure before-hand.  You might even just visualize this mentally while you go about your drawing.
STEP 2
Sketch in the eyes and nose.  Change them.  Make them big - small - circular - ovular... give them eyelids, eyelashes... GET CREATIVE!!  :-)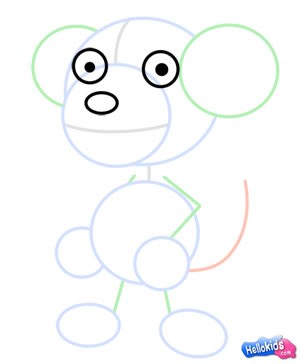 STEP 3
Now bring the lightened area around the monkey's face into view.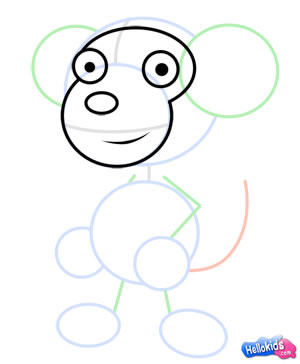 STEP 4
Out to the ears now, forming the head - and then gradually... begin to sketch in the left arm.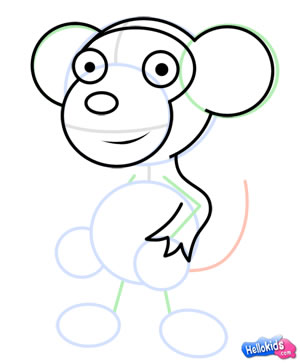 STEP 5
The body...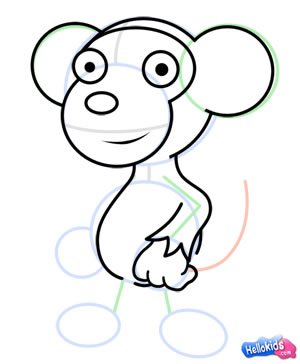 STEP 6
Draw some legs and feet for your monkey.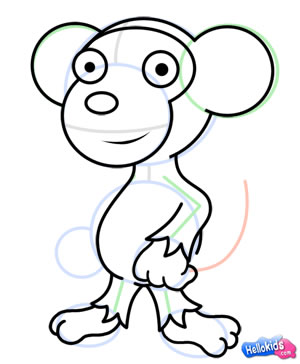 STEP 7
Begin drawing a fist for the right hand... it'll soon be holding - of course!... a banana.  :-)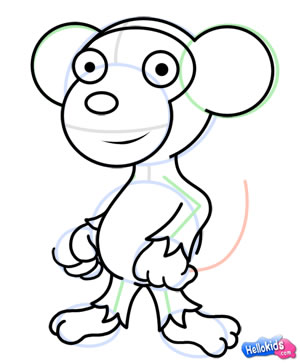 STEP 8
Sketch in the remaining areas.  The tail for example...
STEP 9
Minus the framework - here's what mine looks like...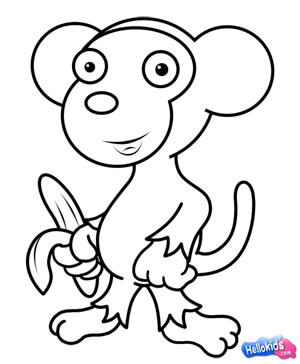 And with a splash of color - it's just that much better.  Nice job!
---
Here is a drawing of a cute monkey made by Jeff Scarterfield ! For more lessons by Jeff, check out his website at How-to-Draw-Cartoons-Online.com.

Happy Drawing! :-)