Chinese New Year, or Spring Festival, parades may be hard to come by. But, if you aren't able to travel to China to see one for yourself, maybe you can entice your family to travel to either San Francisco or New York City to join the celebration in the States.
---
Legend of Nian

Like many New Year's celebrations, the Chinese New Year is marked by fireworks and noise-making. But, just where does this tradition come from?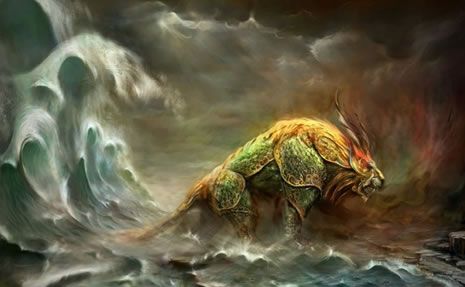 Nian


According to legend, a fierce, predatory monster named, Nian, would come to villages to devour livestock and people alike on New Year's Eve. Terrified, the villagers fled with their young and old to the mountains. As legend goes, the people fought Nian for many years and learned that they could ward him off with loud noises, like gongs and drums, fire, and the color red. These traditions live on today in the lively parades and thunderous fireworks displays that mark the arrival of Chinese New Year.
---
The San Francisco Chinese New Year Parade

Named on of the world's top ten parades by the International Festivals and Events Association, the San Francisco Chinese New Year parade is the largest event of its kind in North America and the oldest celebration of its kind in the United States. It originated in during the Gold Rush in the 1860's and now includes two major fairs, the Chinese New Year Flower Fair and the Chinatown Community Street Fair.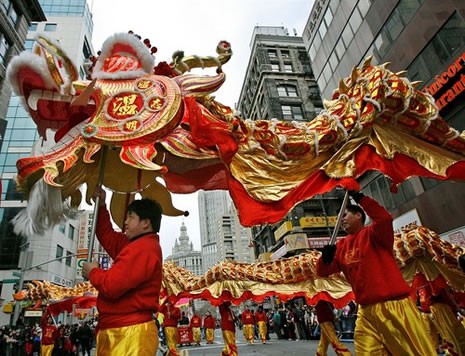 San Francisco Chinese New Year parade

More than 100 floats will participate in the 2 ½ hour parade and will feature elaborate costumes, dazzling fireworks, and ferocious lions. Aside from Miss Chinatown USA, stilt walkers, martial arts groups, school marching bands and lion dancers, the highlight of the annual San Francisco Chinese New Year Parade is the infamous Golden Dragon. The Golden Dragon is over 200 feet long and requires 100 men and women to carry it. The Golden Dragon was made by the Foshan dragon masters in China who are responsible for all of the costumes made for the Cantonese Opera. The Golden Dragon features a six foot long head festooned with rainbow colored pompoms, a dazzling array of lights from head to tail, and white rabbit fur. It always heralds the grand finale of the parade is accompanied by 600,000 firecrackers!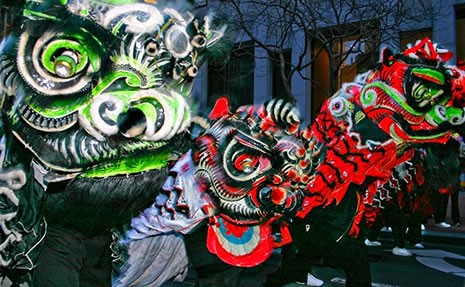 Lion Dancers
---
New York's Chinatown Lunar New Year Parade and Firecracker Cultural Festival

Now in its 11th year, New York's Chinatown Lunar New Year Parade and Firecracker Festival is set to start off with a bang, literally! The festival will commence with 600,000 colorful firecrackers, carrying on the traditional practice thought to scare away evil spirits. Following opening ceremonies, lion and dragon dance troupes will traverse Chinatown and will arrive at a massive New Year Festival in the heart of Chinatown, featuring cultural performances by both traditional and contemporary Asian and Asian-American singers and dancers. Although not as established as the San Francisco Chinese New Year Parade, nearly one half million people attended last year's festivities. Maybe you'll be among them!
New York's Chinatown Lunar New Year Parade
Chinese Firecrackers
---
---
---
---