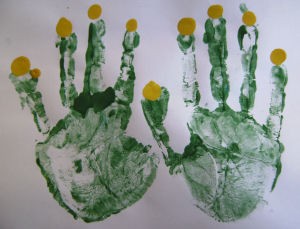 You Will Need:

• Your Two Hands
• Fingerpaint or washable paint
• Construction paper
• Crayons or markers
---

How To:

1. Cover your palms in paint.

2. Place your hands, palms down, side by side and wrap your thumbs together to form the center of your menorah.

3. Press your hands onto your construction paper.

4. Allow to dry and draw on the candles.

5. "Light" one candle each night for Hanukkah!
HAPPY HANUKKAH!