Welcome to sun animated gifs ! You will love these sun pictures. To save your favorite sun animated gif to your computer click right button of mouse and save as.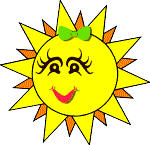 ---



Find out all our videos, Join Hellokids YouTube Channel: 
HelloKids-us
---

Reasons To Celebrate Father's Day
Celebrating Father's Day Father's Day is a day honoring fathers, brothers, uncles or any important male figure in your life. We often forget the sacrifices and contributions of our fathers and male figures have made in our lives. ...
Read More ...