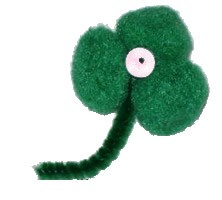 This pompom shamrock is easy to make St. Patrick's Day craft to decorate your fridge or pin.

Material
fridge magnet or pin back
3 green pompoms
1 pearl bead
2¼ inch length of green chenille stem
craft glue

How to make a Pompom Shamrock
Bend up the end of a 2¼" piece of green chenille stem then curve the remainder of the chenille stem slightly to form a stem shape.
Apply a small amount of craft glue all around the bent end of the stem.
Push the three pompoms into place around the glue, pinching them together with your fingers until they hold in place.
Slide the pearl bead onto the tip of the chenille stem, in the middle of the pompoms.
If you wish to use the shamrock as a fridgie, glue a fridge magnet in place on the back.
To make a pin to wear on St. Patrick's Day, just glue on a pin back.
LUCKY ST. PADDY'S DAY !!