Top 10 Reasons for not doing Homework!
Written on September 17, 2011
A list of the reasons why you didn't do homework
NOTE: do NOT try an of these unless you want detentions!
I didn't do my homework because..
1. My religion is against it
2. So you won't have so many papers to mark, teacher!
3. It is a waste of paper which is bad for the trees
4. My parents forbids me
5. My mum accidently threw it in the bin thinking it's just random piece of paper
6. I am allergic to it!
7. I have a broken arm
8. The President made it illegal!
9. People should be out in the fresh air and being active!
10. Back to the classic and basic: The dog ate my homework xD
Image from The Simpsons xD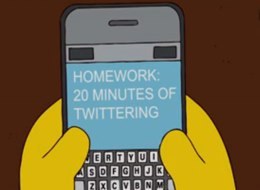 1355 persons read this article